We invite you to worship with us on Sunday morning and would love to meet you! We gather every Sunday morning at 10:30 am to grow in our Christian walk and to glorify God. We do this as we sing, read Scripture, pray, preach, and partake of the Lord's Supper and baptism. Below is more information to help you plan your visit and know what you can expect.
---
Sunday School Bible Studies
9:15–10:10 am
We offer inductive Bible studies for all ages and childcare for preschoolers and infants. Come early for coffee and fellowship. If you need help finding a class, please visit Connections Corner located behind the main auditorium.
Morning Worship Service
10:30–11:50 am
The goal of our morning worship service is to see Jesus Christ exalted through the building up of his church. We want our worship to be Word-centered, biblically regulated, scripturally established, Christ-focused, and Trinitarian.
Little Explorers (Children's Ministry)
10:15–11:50 am
Little Explorers is our childcare for children birth-kindergarten during the morning service. With the loving care and instruction of our members, children have Bible study, crafts, and playtime. Children are welcome to sit with you during the service if you prefer. If you are visiting for the first time, please arrive 15 minutes early to check in and to meet your child's teachers. Families who have children with special needs can fill out this form before they arrive so the Children's Ministry staff can be prepared to serve you. The Children's Ministry entrance is located on the west end of the building. (Enter the right entrance and portico if you are facing the building). Learn more about family ministry.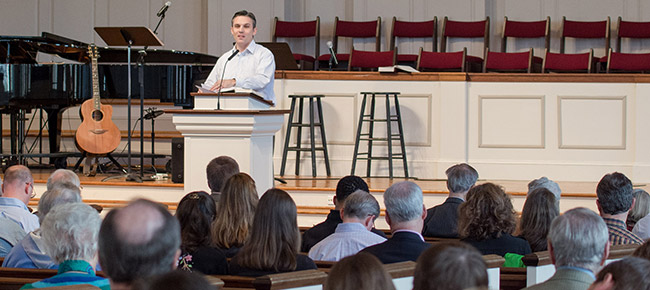 What to expect
Music
We combine joy and reverence in musical style as an expression of our Christian experience. Our music is intentional, reverent, and joyful with a mixture of old and new hymns and choruses led by a variety of instruments and singers to foster robust congregational singing.
Prayers and Scripture Reading
We have a variety of prayers – confession, praise, thanksgiving, and pastoral supplication. We pray for needs inside and outside our church, knowing that the kingdom of God goes beyond Mount Vernon's ministry. We also have a public Scripture reading from either the Old or New Testament.
Sermons
We are passionately committed to expositional preaching, meaning that point of the sermon is the point of the particular passage. Our sermons series alternate between Old and New Testaments. The preaching is approximately 45 minutes. Click here to listen to a sermon.
Response
We regularly celebrate baptism and the Lord's Supper as Christ commanded and as a picture of the Gospel. We partake of the Lord's Supper once a trimester in the morning service and monthly during the evening service. All baptized believers who are in good standing of an evangelical church are welcome to partake of the Lord's Supper.
Fellowship
We would love for you to stay after the service for a few minutes and let us meet you. There are greeters at most doors, and people often linger to talk and get to know each other.
Participation
If you are not a Christian, please know that you are very welcome and should feel the freedom to participate in the service to whatever degree you feel comfortable. We do not expect you to affirm or sing about things you do not believe. You are more than welcome to sit and observe. We do collect money every Sunday but only expect that members give.
Attire
While most people will be dressed in "business casual" attire, you are welcome to wear something more casual or more formal.